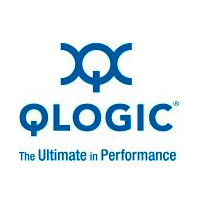 QLogic 12200 InfiniBand Switch
by
QLogic Corporation / Cavium Inc.
http://www.qlogic.com/Resources/Documents/DataSheets/Switches/12200_Datasheet.pdf
Download: Click to download
Description
QLogic TrueScale InfiniBand Switches The QLogic 12200 InfiniBand is a 36-port, 40Gbps InfiniBand switch that cost-effectively links workgroup resources into a cluster, or provides an edge switch option for a larger fabric. This fixed-configuration, externally-managed, InfiniBand switch is a member of the 12000 series that delivers an unmatched set of high-speed networking features and functions - while also delivering 2.88 Tb/second of aggregate bandwidth. The QLogic 12200 advanced design is based on the TrueScale architecture that provides a comprehensive set of virtual fabric partitioning features that enable the InfiniBand fabric to support the dynamic requirements of any organization. The TrueScale architecture, together with the optional InfiniBand Fabric Suite software, allows mission-critical applications to easily configure, tune and manage an InfiniBand fabric while maximizing bandwidth. The QLogic 12200 series switches adhere to the IBTA v1.2 specification, ensuring the ability to interoperate with all other IBTA compliant devices. The 12200 provides scalable, predictable low latency, even with high traffic use. Predictable latency means HPC applications can be scaled easily without diminished cluster performance or costly system tuning efforts. And scalability means assured bandwidth, latency and guaranteed quality of service for powering today's high-performance computing workloads - whether you're using ultra high density or maximum performance leaf modules. The QLogic 12200 is part of QLogic's InfiniBand product portfolio delivering an unmatched set of high speed networking features and functions.
Categories: Switches