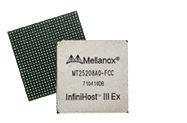 InfiniHost III Ex
by
Mellanox Technologies, Inc.
http://www.mellanox.com/products/infinihost_iii_ex_silicon.php
Download: Click to download
Description
The Mellanox InfiniHost III Ex is a dual-port 4X InfiniBand Host Channel Adapter (HCA) silicon device that enables the expansion of PCI Express infrastructure in the data center and high performance computing environments. The dual 4X InfiniBand ports on the InfiniHost III Ex supports either 10Gb/s (SDR version) or 20Gb/s (DDR version) per port. Each InfiniBand interface features four integrated 2.5Gb/s (SDR version) or 5Gb/s (DDR version) SerDes interfaces eliminating the requirement for external physical layer devices. By providing world-class latency and high bandwidth connectivity over a PCI Express x8 interface, the devices provide the optimal solution for high-performance server and storage clustering. Used as either a Host or Target Channel Adapter, InfiniHost III Ex devices feature a local 64-bit (72- bits with ECC) SDRAM memory interface for storing connection information, or the flexibility of using MemFree Technology. MemFree enables system memory, as opposed to locally-attached adapter memory, to store connection informationsaving cost, power and board area. Consuming around 7W (SDR version) or 10W (DDR version), and with a small overall footprint, the InfiniHost III Ex is ideal for Landed on Motherboard (LOM) and Blade Server designs. The InfiniHost III Ex also maintains binary software compatibility with the InfiniHost III Lx (MT25204) and the InfiniHost (MT23108) HCA, and leverages existing device drivers, verbs software libraries, and upper layer protocols for faster time to market.
Categories: HCA Silicon