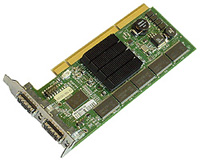 Voltaire® HCA 4X0/5X0/6X0 Product Family
by
Voltaire, Inc.
http://www.voltaire.com/Products/Server_Adapters
Download: Click to download
Description
The HCA 4X0/5X0/6X0 product family is a complete set of high-performance 4X InfiniBand Host Channel Adapter (HCA) cards that enable industry-standard servers to access the full performance of high-speed (20-40 Gb/s) InfiniBand fabrics, with latency as low as 1.2 microseconds. HCAs support the industry's widest variety of host interfaces, InfiniBand rates and upper-layer protocols to meet the requirements of a broad range of applications and computing environments. Voltaire HCAs support network, cluster and storage connectivity over an InfiniBand fabric and feature device drivers for Linux and Microsoft Windows. They also include Voltaire's OFED support for Linux and Voltaire WinOF support for Windows, a comprehensive suite of upper layer protocols that enable high performance computing clusters, utility computing, grids and enterprise data center applications including VMware and Oracle 11g.
Categories: HCA Cards