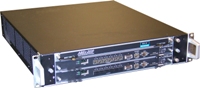 Bay Microsystems ABEx 2020, InfiniBand Extension over the WAN
by
Bay Microsystems Inc.
http://www.baymicrosystems.com/products/network-appliances/abex-2020.php
Download: Click to download
Description
The ABEx 2020 Multiservice Transport Gateway enables administrators to overcome distance limitations of InfiniBand and expand network and storage services outside the data center. The ABEx 2020 incorporates carrier-class networking services allowing InfiniBand to be reliably transported and extended to any point on the globe, across a wide range of Optical Transport Networks (OTN) and Packet Switched Networks (PSN) including dark fiber, SONET/SDH, Ethernet, IP/MPLS, Pseudowires (MPLS, L2TPv3), and ATM. Delivering full line rate 4X InfiniBand SDR performance, ABEx uses interchangeable optical transceivers for numerous connectivity options to bridge all types of InfiniBand traffic over both Metro and Wide Area Networks. Built around Bay Microsystems' innovative network processor and traffic management integrated circuit technology, ABEx is ideal for computer and storage services such as Wide Area Virtualization, High Performance/Cloud Computing, Clustered Databases and Warehouses, and Trading and Market Data applications.
Categories: Switches