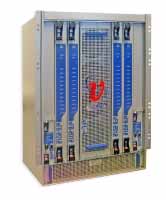 Voltaire® Grid Director 2012
by
Voltaire, Inc.
http://www.voltaire.com/Products/InfiniBand/Grid_Director_Switches/Voltaire_Grid_Director_2012
Download: Click to download
Description
The Voltaire Grid Director 2012 multi-service switch enables high performance applications to run on distributed server, storage and network resources. Multiple Grid Director 2012s can be interconnected to form very large high performance clusters and grids that can grow into the thousands of nodes with "pay as you grow" scalability. High performance environments require no-compromise solutions. The Voltaire Grid Director 2012 delivers just that-with up to 288 ports of error-free 20 gigabits per second InfiniBand connectivity. Ultra low latencies and an impressive 11.52 terabits per second non-blocking backplane eliminate communication bottlenecks, allowing applications to perform at maximum efficiency. As the industry's largest multi-service switching solution, the Grid Director 2012 provides unprecedented levels of performance and scalability for large, high performance computing environments and grids.
Categories: Switches